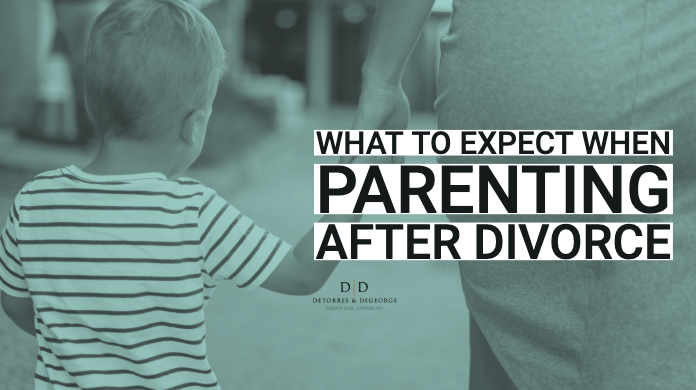 Becoming a single parent can be a challenging part of divorcing or separating. When having children, most people plan to parent together for the child's entire life. When you and your child's other parent end your relationship, suddenly you find that you are on your own as a parent. Hopefully, you and your ex are finding a way to co-parent and make big decisions together.
Experts agree that parents who are able to work together and create a co-parenting relationship after their divorce or breakup are able to help their children weather the changes best and also find that they manage better themselves. Co-parenting after divorce requires communication, as well as a modicum of trust. Successful co-parents create a parenting-time schedule that's best for the entire family and build a new relationship as parenting partners that, for the most part, set aside their differences to parent their children together.
Parenting solo may seem a little overwhelming at times. If you follow these tips, though, you will find that parenting after divorce is not only manageable but can honestly be a joyous experience.
Remember that you've parented alone a lot more than you realize
When your ex was at work, out on errands, asleep, or doing something else, you were the only parent in charge. Single parenting is the same as this. It just feels more daunting because you know there's no other parent coming home. The flip side to this is that you will have "time off" when your ex has your children according to the parenting-time schedule. In the beginning, you may be sad when you're not with your kids, but as you get used to the new schedule, you'll value this alone time and you may actually look forward to it, allowing yourself to reconnect with friends or interests that you haven't had time for since you've had children. Your kids will spend valuable time with your ex while you will have time for yourself.

Trust your instincts
You've been a good parent until this point, and you will be a good parent moving forward. Believe in yourself and trust that you can do this. Just because you didn't succeed as a couple doesn't mean that you won't succeed when co-parenting after divorce. You may actually find that you get along with your ex better when discussing the kids and their activities without having to deal with your relationship issues. The ability to set aside your personal differences enables you to be extremely successful when parenting after divorce.
It's ok to feel overwhelmed
There may be moments when your children are sick, misbehaving, or won't sleep and it feels impossible to be taking care of them by yourself. The truth is that you can do it and you will be able to. We're all overwhelmed by parenting at certain moments. The key is to look at the big picture to remind yourself that you're doing a good job overall now that you're parenting after divorce. Do what you have to in order to get through the tough moments. And don't be afraid to call in reinforcements, whether it's your family, friends in the neighborhood, or even your ex. These moments never last forever, and you will always come out on the other side.
Accept that you are not infallible
Your own parents were not infallible, and no parent in the history of the world has ever done everything perfectly. You will make mistakes when parenting after divorce, but you most likely would have made the same mistakes if you were still married. That's just a given in the world of parenting. Do the best you can under the circumstances.
Find support
Friends, family, day-care providers, teachers, coaches, neighbors, medical professionals, and other people in your life are there to help you and are an important part of your parenting team. Lean on them. Get their advice. Rely on them to help care for your child. Together you can provide everything your child needs.
How to handle unscheduled parenting time
Your parenting time schedule lays out the plan for how you and your ex will share time with your child. Your plan may be very specific and list definite days and times, or it may be less definite and provide for a time such as "every other weekend" without listing actual transfer times. Some agreements also say "other parenting time as agreed upon." Working out a schedule can be challenging if your order is not completely clear, but this can also offer you a lot of flexibility.
If your parenting plan is not completely specific, the first thing you should do is talk to your attorney so that you can fully understand what the court has ordered and what that means for you. If you order does not list specific transfer times, you and your ex can work these out or you can ask your attorneys to help you create a more specific schedule. If you and your ex are creating these together, it is a good idea to do so in writing, so there can be no confusion.
When an order provides for parenting time at other times as agreed upon, it means that you and your ex are free to negotiate other times as long as you can agree. The agreement is the key here to co-parenting after divorce—if you cannot agree, additional times cannot happen and this is where an experienced attorney comes in handy.
Parents sometimes wonder if a parent attending a child's sporting event, recital, or other extracurricular event is permitted if a parenting plan does not specify this. Unless a parent has supervised visitation, this kind of contact is encouraged by the courts. Children need both parents to be involved and participate. Even if your order does not directly include these events, you should assume that both parents can and should attend if possible.
Co-parenting when you can't communicate
If you and your ex cannot communicate, co-parenting becomes a challenge. If you're always getting into arguments, are unable to say a civil word to each other, or absolutely distrust each other, it is going to be very difficult to parent together for the good of your child. Here are some tips toward building a better relationship when co-parenting after divorce:

See a counselor together.

You're not there to work on your relationship, but you are there to find new ways to communicate. The old ways clearly don't work. You need new patterns, new habits, and new strategies.

Decide to react differently.

You can't change how your ex behaves, but you can change how you react. By controlling your knee-jerk reactions, you can stop the cycle of sniping. Your ex may then follow your lead slowly, and gradually you may find a new way to communicate, making co-parenting after divorce a lot less stressful.

Eliminate hot spots.

Stop talking about the things that trigger the arguments or disagreements. If necessary, stop talking in person at all. Send all communication via email or text so that you give yourself time to weigh your words and strategize what you want to say.
Divorce isn't easy, but parenting after divorce doesn't have to be impossible. With proper communication, faith in yourself, the ability to reach out for help, and the proper parenting-time schedule in place, you'll be setting yourself up for success with your kids when parenting after divorce.
DeTorres & DeGeorge offers representation in divorce and family law matters in New Jersey. Call us today at 908-304-9683 for an appointment.