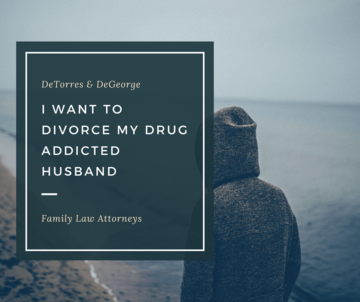 In New Jersey, there are many options to divorce a drug addict.  Addiction is a lesser used cause of action for a divorce.  It is often not as widely utilized by attorneys or parties seeking divorce because it can be difficult to prove substance abuse in court.
If you wish to file for divorce under the grounds of addiction, you will have to be able to prove a dependence on a narcotic or other dangerous substance, or habitual drunkenness for a period of twelve or more consecutive months prior to filing the complaint for divorce.  You will also need to be able to prove to the court that the other party used alcohol and/or drugs persistently and substantially.  Due to these requirements, it is not a common cause of action as it is unlikely that a person has the sort of proof necessary to meet the burden in court.
A slightly easier burden to meet in order obtain a divorce due to drug addiction would be to file for divorce under extreme cruelty.  This is defined as any physical or mental cruelty which makes it improper to expect a person to continue to live with his or her spouse.  Therefore, you could allege that being married to a drug addict has caused you to suffer emotionally.  This could be demonstrated by specific examples of times where the addict treated you poorly, was mean or possibly destructive within the home due to their addiction issues.  The court is generally very liberal with respect to what constitutes extreme cruelty in the context of a divorce proceeding.  The burden of proof is also easier to meet than filing under addiction, as it is largely a credibility issue.  So long as your testimony is credible with regard to the cruelty encountered in the marriage, a judge will likely grant the divorce on these terms.
The easiest method of divorcing a drug addict, however, is to file under irreconcilable differences.   This is New Jersey's no fault cause of action and all that you need to prove is that you are no longer getting along with your spouse for a period of at least 6 months.  This can, of course, become complicated in the event that the other party does not participate and a default divorce hearing is necessary.  However, if your spouse is willing to cooperate, this is the simplest basis for filing for divorce.
A party's addiction may become a consideration in other areas of the divorce, as well.  For example, custody and parenting time may be very concerning issues if your spouse is continuing to use drugs or alcohol.  It may be necessary to ask that your spouse only see the children in a supervised setting in order to ensure the children's safety.  Additionally, it may be a good idea to ask that the court order your spouse to undergo a substance abuse evaluation in order to aid in establishing his or her addiction issue.  A judge may condition any expansion of parenting time, or modifying it from supervised to unsupervised, upon the completion of a treatment program.  Another concern some people have with regard to leaving an addicted spouse is the potential safety issue with regards to leaving.  In some instances, you may feel that your addicted spouse may become physically threatening if you tell them in advance that you are planning to leave.
If you share any of these concerns, please call the attorneys at DeTorres & DeGeorge to schedule a consultation at 908-284-6005 or 973-264-4100.  Our experienced attorneys can assist you in strategizing the best way to leave your drug addicted spouse.