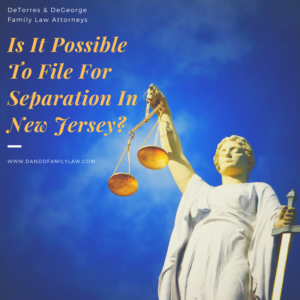 It's a common misconception that you can be "legally separated" in New Jersey. While some states have a formal legal separation, New Jersey does not. If you and your spouse no longer wish to reside together, you are not forced to. You can separate and live separate lives. However, this is not legal separation as other states have it. In the event that you and your spouse wish to live separately, you can draft an agreement that outlines each person's responsibilities and details regarding parenting time, who will pay what bills, and so on. However, if one party does not follow through under this agreement, you will not have any recourse because it is not an enforceable agreement due to the fact that no legal proceedings were initiated.
New Jersey's version of legal separation is a divorce from bed and board. Two of the most common questions from potential clients during a consultation is how much does it cost to file and how long will it take. The answer for both an absolute divorce and a divorce from bed and board are the same- it's impossible to tell. The process for a divorce from bed and board and an absolute divorce are the same in New Jersey. Only the result is different. Specifically, you will still need to file a complaint for divorce and you will resolve all of the issues in your case by way of settlement agreement. This agreement will outline all of the issues in your case including custody, child support, alimony, and equitable distribution. The only difference is that at the end of the process, a final judgment for bed and board divorce will be entered rather than the standard final judgment. The effect of this is that the marriage bond remains intact. Therefore, neither party can remarry until the divorce from bed and board is dissolved. The reason that a divorce from bed and board is attractive to some couples is that the continuance of the marriage relationship often permits the party who provides medical insurance to continue to do so even after the legal case has resolved. Generally the divorce from bed and board is agreed to for a specific period of time, i.e. 2 years, which will give the spouse who will need separate benefits a chance to find employment or qualify for insurance at their place of employment without a lapse of coverage.
If you do decide to simply separate from your spouse and have an unofficial agreement, you can make that agreement the formal settlement agreement if you do proceed to a divorce, so long as you are both in agreement. If you have been living separately for a period of 18 months, you can file for divorce under the no fault provision of separation for 18 months. However, to file under the more common no fault provision, irreconcilable differences, you only need to allege that there have been issues in your marriage for six (6) months.
If you have questions about separating from your spouse, contact the attorneys at DeTorres & DeGeorge to schedule a consultation at 908–284–6005.