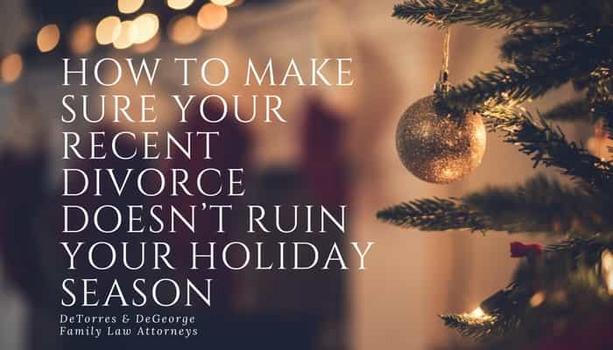 The holiday season can be stressful for anyone; but throw in a divorce, and the winter months can be downright awful. Believe it or not, though, your role as the family Grinch is not a foregone conclusion. Check out our recommendations below and you just may find yourself smiling through the holidays.
1. Keep busy with happy activities
With so much to do around the holidays – the baking, the decorating, the shopping – this seems easy enough. Eventually though, you're likely to find yourself with some quiet time; and instead of using this time to run around taking care of everyone else, make a point to take some time for yourself. Spend your time doing something that makes you happy, whether it's going to the gym, getting a massage or a manicure, or even just reading that book you've been meaning to get around to. Self-care is extremely important when you are going through a divorce. If you aren't taking care of yourself, it's hard to take care of anyone else.
2. Surround yourself with family and friends
So often we associate the holidays with joyful family gatherings. But the reality is that divorce changes the entire family dynamic. This may be the first time you're not with your children on Christmas morning. While you may be comforted in knowing that next Christmas will be your turn – as many people alternate the sharing of the holidays annually – there's no question that the first year is particularly hard. So make plans with your family and friends. The last thing you want to do is to sit home alone. Use the time your children are with your ex to travel to see that relative you haven't celebrated a holiday with in years. While you may not be with your children this holiday, you will be with them on others. Take this time to enjoy your extended family and friends.
3. Limit interactions with your ex
If you've worked out a shared parenting schedule, it's likely that you will have to interact with your ex at least once over the course of the holidays as you exchange the children. This does not mean, however, that you need to be in constant contact with him or her. There is absolutely no reason why divorce negotiations need to continue over the holidays. Keep your interactions light, and don't discuss what has been happening in your case, or the financial implications of your divorce. The holiday season is an important time for families, and while your nucleus may not look the same as it once did, as parents you and your ex are still the most significant family members to your children. It's important to keep in mind that your children will continue to love both of their parents and will want to enjoy the holidays with everyone.
If you are considering a divorce this holiday season, contact the attorneys at DeTorres & DeGeorge to schedule a consultation.