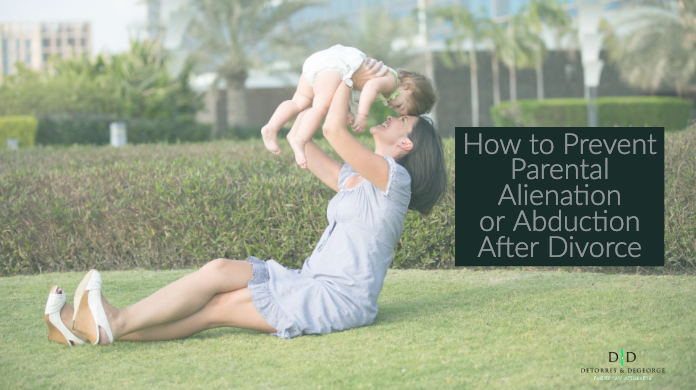 For most people, their children are their highest priority. Establishing a custody and parenting plan that will benefit your children should be one of your main concerns when separating from the other parent. At times, during the separation process, parental alienation and parental abduction are concerns for separating parents that must be considered.
Parental alienation is the term used to describe a situation in which one parent refuses to allow the other parent to have a relationship with a child. Signs of parental alienation include turning a child against the other parent, so that the child believes that he or she does not want any contact with the parent, essentially manipulating the child into forming negative feelings toward the parent. Parental alienation is a terribly painful situation and one that can be extraordinarily difficult to combat. Keeping a child from spending time with or having a relationship with the other parent can be severely damaging to the child. New Jersey courts recognize the issue of parental alienation. Your attorney can gather and present evidence to the court to establish that the other parent is engaging in efforts to alienate you from your child in an effort to interfere with allowing you to maintain a healthy relationship with your child. In certain circumstances, proof of parental alienation may be a basis for a change in custody or other relevant relief.
What is parental abduction?
Separate from parental alienation is parental kidnapping or parental abduction. These terms can be used interchangeably.  Parental child abduction is the hiding, taking or keeping of a child by their parent, while defying the rights of the child's other parent or another member of the family. Parental abduction often occurs when parents separate or begin divorce proceedings. One parent may take or retain the child from the other to gain advantage in the pending child custody proceedings. Another situation could be when a parent refuses to return the child at the conclusion of parenting time. There may also be circumstances when people have concerns that they might be reported to law enforcement, such as DCPP (Division of Child Protection and Permanency), most often related to child endangerment proceedings. Parental abduction, Wikipedia.
What is considered child abduction by a parent?
According to New Jersey law, parental kidnapping may take place when a parent details a minor child with the purpose of concealing the child and depriving the other parent of either custody or parenting time.
Examples include detaining or concealing a minor child to evade the jurisdiction of the state of New Jersey in anticipation of an upcoming court proceeding that will impact their custody or the needs of the child, or concealing a minor child in violation of a court issued custody/parenting time order.
If you have concerns that your child's other parent might kidnap or abduct your child, there is certain information that you should know in an effort to prevent an abduction from happening.
Control of the passport: if your child has a passport, gain control over the possession of the passport to prevent the other parent from taking the child out of the United States. If your child does not have a passport and you maintain joint legal custody, both parents have to legally consent when applying for a passport. A parent who exercises sole legal custody can apply for a passport independently. Under those circumstances you would want to make sure that there is a passport alert in place through the Children's Passport Issuance Alert System. Keeping the passport safe prevents out of the country abductions. Your attorney can also seek a court order to maintain the passport in the possession of the court or an independent third party, such as an attorney. Once your child has a passport, your child is not permitted to leave the country without the passport. The Children's Passport Issuance Alert System will notify you if a passport is applied for in your child's name. Both custodial and noncustodial parents can sign up for the service.  It is an important tool to ensure that you will be notified about potential travel. which could lead to parental kidnapping. 
Protective language: Another important step for you to consider is to request that the Hague Convention abduction language be included in your custody agreement or order and that all international travel must be court approved. You can consult with your attorney as to how to best address this in an agreement or through permission by the court. You may also seek that your child's other parent be required to post a bond in the event that he or she wishes to take your child out of the country.
Is Parental Kidnapping a Felony?
It is important to note that parental kidnapping or abduction, otherwise referred to as custodial interference, is a crime. Parental kidnapping and parental abduction may also take place within the United States across state lines. In New Jersey, parental kidnapping is punishable by a fine of up to $150,000 and 5 to 10 years in prison. 
If you have concerns about parental alienation or parental kidnapping and abduction, it is important for you to consult with legal counsel. Contact the legal experts at DeTorres and DeGeorge today for cutting edge legal advice and representation so that all of your questions and concerns may be answered,  as you navigate difficult circumstances with your child's other parent.