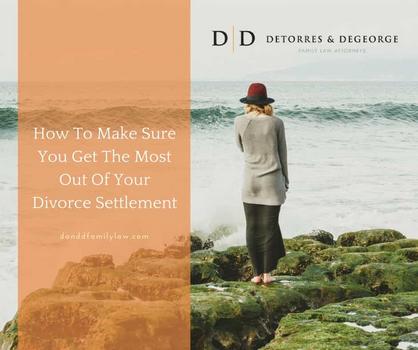 When negotiating a settlement agreement with your spouse, it is important that you include a complete resolution of all of the issues in your case.  Your settlement agreement is the legal document that establishes your rights to the children and property of the marriage, and in the event that an issue arises once the divorce is finalized, a judge will look to your agreement for guidance.  Therefore, you want everything covered within that document.
Typical divorce settlements include provisions for the custody and parenting time of the children.  It is recommended you be detailed in your agreement because it will help to avoid issues in the future.  For example, you should spell out the details of the holiday parenting time schedule rather than leaving it open-ended.  Often clients come in and say that they will be able to work out the details with their spouse when an issue arises because they are getting along.  While you may be getting along currently, there is no guarantee that you will always agree or be able to work together.  If the agreement is not specific and you cannot reach an agreement with your former spouse, you will need to return to court for the judge to make a decision.  It is in your best interest to work out the details in advance.
Other typical provisions in a settlement agreement are child support, spousal support, and equitable distribution.  Equitable distribution is then often broken down further to subcategories in order to specifically address all of the property of the marriage, including the marital residence, vehicles, bank accounts, stock accounts, retirement accounts, and debts.  If you are wondering what you should be asking for in a divorce agreement, keep in mind that New Jersey is an "equitable distribution" state, which means that the agreements are to be fair, but not necessarily equal.  In many cases, parties agree to divide property, such as bank and retirement accounts, equally because it's considered to be fair in their particular situations. It is important that you list all of your assets and liabilities in the settlement agreement.  This is to protect you in the event that you later discover that there were assets to be divided that were hidden from you.  If there is no way to prove that you were unaware of this information, a judge will be limited in their ability to remedy this after the fact.
You also need to be aware of information that is sometimes overlooked in a settlement agreement.  Some of these issues include determining who is going to be responsible for paying which debt, transferring the title of cars, if necessary, and who will pay that cost if any.  In the event that one spouse is going to refinance the marital home into their sole name, it is important to include exactly how that is going to happen and a specific time frame within which it is to occur.  You should also specify who is going to claim the dependency exemptions for your children each year so there is not an argument.
If you are prepared to move forward with a divorce and would like to speak to an attorney about what specific information should be contained in your settlement agreement, contact the attorneys of DeTorres & DeGeorge to schedule a consultation.