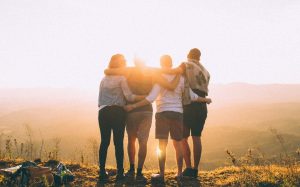 Experiencing separation and divorce can be very difficult to manage at times. The impact of these circumstances can be emotionally overwhelming.  People in the middle of a divorce who are separated from their spouses need to continue to manage their day to day lives, which often involves continuing to work, taking care of their children, tending to their children's emotional needs during the divorce, and continuing to function while enduring the divorce process.  People often explore support groups as an option to help them cope with their divorce.  Connecting with people who are experiencing the same situations or circumstances that you are experiencing will make the process easier for you to navigate.  Seeking out support groups for separation and divorce will allow you to communicate with other people who understand exactly what you are going through.
Finding the Right Support Group
Processing the emotions that accompany a divorce, separation, and perhaps spousal infidelity, may motivate people to find groups that will support their specific needs. There are many options to choose from when considering support groups. Some options when trying to determine the right support groups for separation and divorce for you may include women's divorce support groups, men's divorce support groups, and religious divorce support groups. There are newly separated support groups for people recently separated and looking for support during the early stages of separation. There are support groups for divorced moms, support groups for divorced fathers, LGBT divorce support groups and many others. People generally want a sense of connection and community as they learn to manage difficult times in their lives. Support groups for separation and divorce provide an opportunity for people to feel validated about their own experiences, as they navigate what can be a tumultuous time in their lives.
Support Groups for Divorced Parents
Support groups for divorced parents may provide support for people who will need to co-parent together once the divorce is finalized. Continuing to work together to parent your children is not an easy task.  An ongoing commitment to attend support groups for separation and divorce will allow for support on a long-term basis, as circumstances change and challenges continue to present themselves in what will become the new normal environment for you and your family.
Online Divorce Support Groups
Marriage separation support groups can provide healing and hope through the process of separation and divorce.   Support groups, as with most other things in our society, have evolved, making it easier for people to seek out resources.  Online divorce support groups are a convenient option for those who are unable to attend in person. Often these online support groups for separation and divorce provide services at any time of the day or night. Online groups may offer professional services as well as peer support services.
Contact our team at DeTorres & DeGeorge to learn your rights, understand the divorce process and have your questions answered pertaining to support groups for separation and divorce. Our legal experts specializing in both divorce and separation will make sure that you have the tools that you need to move forward both during the divorce process and afterward.  Understanding the process will make the overall circumstances easier for you and help you with the best ways for you to seek support while you manage the process of separation and divorce. Contact us today.