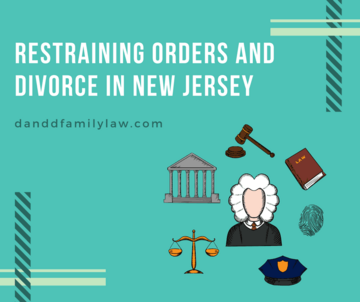 It's not uncommon for one or both parties involved in a divorce proceeding to obtain a restraining order during the divorce process. Restraining orders are a part of many divorce cases and are an important protection that is necessary to prevent domestic violence and allow victims of violence or threatened violence to live their lives safely. There is no question that restraining orders are necessary and appropriate most of the time they are issued. However, restraining orders can sometimes be misused as a tactic in a divorce.
Restraining orders can be issued where the victim has been harassed, stalked, assaulted, threatened or the victim of criminal mischief. Many people in a divorce may feel they have a good case for a restraining order because a marriage that is heading towards divorce often becomes very volatile, at least for a short time.
A restraining order can sometimes be sought as a way for one spouse to gain exclusive occupancy of the home, as the order will direct the other spouse to move out and stay away. The spouse who is currently living in the home at the time of the divorce is most likely to be granted the home as part of the property division. Some spouses may seek a restraining order specifically for this purpose.
Restraining orders, while certainly necessary for the protection of victims, can also complicate the divorce proceeding in other ways. A party who has a restraining order against the other will have no option but to have counsel resolve all issues, even minor aspects of parenting time that may arise. For example, when a restraining order is in effect, a parent who is running late to a parenting time exchange may not have a way to communicate that to the other parent other than asking their attorney to relay the message. This is especially true in cases with very young children who may not yet have cell phones or other means to communicate with their parent.
How domestic violence plays a role
A restraining order also has an impact on custody. Courts must consider domestic violence when determining custody. A restraining order also often has the effect of painting the restrained spouse in a negative light which can skew the court's approach to custody and visitation. If a restraining order is sought to protect the children, it can eliminate all visitation.
There were 70,311 domestic violence cases reported to the New Jersey police in 2011. There are many cases that go unreported as well, making domestic violence an issue of great concern in the state. Families who are involved in divorce or family law cases have a higher incidence of domestic violence. The family may come to court because the violence has ended the relationship or the violence may emerge as the relationship is ending.
The domestic violence law in New Jersey is drafted to ensure that a victim of domestic violence feels protected and safe. In that regard, often times the judges hearing a domestic violence case will award exclusive use and occupancy of the home to the victim and order that the perpetrator must reside outside of the home. In a matter where both parties wish to retain the marital residence, this may give the victim spouse who is permitted to remain in the home an upper hand in the overall settlement of this issue.
Additionally, domestic violence between the parties or in the home is a factor that is considered when a judge addresses custody. Just as with the marital home, judges hearing a domestic violence matter will likely order that the children will reside primarily with the victim during the divorce proceedings. This is intended to protect the children and act in their best interests by protecting them from a potentially volatile parent. However, it can also give the victim parent an advantage in a custody dispute, as it may set the stage for a new "status quo" custody arrangement.
Domestic violence includes not only physical violence but sexual and emotional violence, as well as threats and stalking. If you feel unsafe you must reach out and get help immediately.
If you are a victim of domestic violence, the most important thing is the safety of yourself and your children. It is essential that you get help immediately, either by calling the police, going to a domestic violence shelter, or someplace else where your safety is assured.
Your next step is to obtain a restraining order so that your attacker cannot approach you or harm you. This order can give you possession of the home as well as temporary custody of your children.
Once you are in a safe place, it is time for you to work with your attorney and make permanent decisions about divorce, custody, child, support, alimony, or property division. Domestic violence has an impact on all parts of your divorce. It is a factor that is considered when the court determines permanent custody of your children. Child support orders are reflective of the custody situation, so this is also impacted. The court may consider all relevant factors when determining alimony in your case, so domestic violence can play a role in this part of your divorce as well.
Domestic violence is a very serious subject. The impact that a restraining order may have on your divorce should be fully explored with your attorney. If you have questions regarding the impact a restraining order may have on your divorce proceeding, please reach out to the attorneys of DeTorres & DeGeorge today or call us at 908-304-9683.