How to handle divorce with a baby
Going through a divorce with a baby is difficult enough if you don't have children because you can go your own way after the divorce. You don't need to argue about custody or child support. If you do have children who are in school or even children who are at least a year or two old, the disputes over custody and support are more manageable than if your child is a newborn.
If you're pregnant or you just gave birth, the emotional and financial stresses of being a parent in divorce can be traumatic. It's tough for any person going through a divorce with a baby – even after years of marriage. If you're just married and just gave birth, divorce is especially terrifying. Rest assured that our skilled New Jersey divorce lawyers are ready to guide you through this difficult time.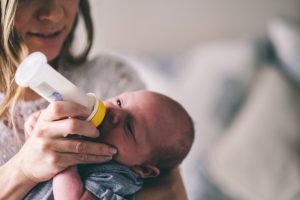 Consult with an experienced divorce lawyer if you're going through a divorce with a baby
Our lawyers will explain how the divorce process works. We'll explain your financial rights including the duty of your spouse to pay child support for your baby. We'll explain what community service options are available in Clifton and Morristown for expectant mothers. We'll explain what childcare options may be available if you need to work or go back to work to support your child and have a home.
What are the custody issues involved in divorce with a newborn baby?
Generally, when you're going through a divorce with a baby,  the mother's spouse will be presumed to be the father of your child unless there is clear evidence that someone else in the parent. In some cases, a paternity test can be ordered. Young parents and parents of all ages need to make decisions about who will raise the baby, feed the baby, take care of any health needs, and love the baby as soon as the birth occurs or if it just occurred.
Newborns need all sorts of property items such as cribs, clothes, car seats, changing pads, feeding methods for babies, and more. Newborns need around-the-clock attention so they don't fall or get into trouble. 
Custody orders in New Jersey have two parts. 
     

The first part involved with

going through a divorce with a baby

is the determination of legal custody – who makes decisions about the child's health, for starters. Legal custody includes the right to make decisions about your child's education and religious upbringing.  

     

The second part determines physical custody which includes deciding where the child will stay each day of the year and who makes the daily living decisions for the baby. 

Decisions about custody

need to be immediately – even before the divorce is final.
Often, our lawyers, when parents are going through a divorce with a baby, negotiate temporary custody orders until final orders are negotiated or decided by a family law judge.
Your child is also entitled to financial support. Normally, the person who does not have custody or will be spending less time with the baby than the other parent will be ordered to pay child support. Child support is generally based on the income of the parents and the number of children the parents have with each other or with other partners.
The emotional difficulties of getting divorced with a baby
According to Psychology Today, maintaining a bond with both parents is crucial to an infant's well-bring. At some point, the baby's other parent is going to have the right to have the newborn to themselves. You'll want to communicate with the person you're divorcing about all your newborn's health requirements. You're also going to want to make sure you try not to spend the night alone. Stay with a family member or friend or have them stay with you to help you get through the night.
After the first night, when you're going through a divorce with a baby, you'll need to work through the emotional difficulties of letting go of your newborn. In some ways, having time to yourself can be good. You'll finally get a good night's sleep. You'll be able to focus on yourself for a while.
You'll need to learn to co-parent with your spouse. We've written about co-parenting in another blog.
Develop a support system when divorce with a baby involved
All parents of newborns need a support system especially if the newborn is their first child. Support systems are especially crucial if you are going through a divorce with a baby because your spouse will not be there with you.
Your parents, other family members, and friends who have children of their own should be able to provide help. These people will need to provide support for the child such as watching over them and feeding them while you're at work or just feeding yourself. You should also involve people in your life when you're going through a divorce with a baby, who can provide emotional support regarding your divorce and your parental status.
You may need to address many other newborn issues after a divorce with a baby – with the help of skilled healthcare professionals – such as postpartum depression. There are local resources our lawyers can recommend to help young mothers.
At DeTorres & DeGeorge Family Law, we've been advising spouses and parents with a team bringing over 65 years of combined experience. New parents going through a divorce with a baby should call us at 908-691-2104 or fill out our contact form to learn their rights. We have offices in Clinton and Morristown.