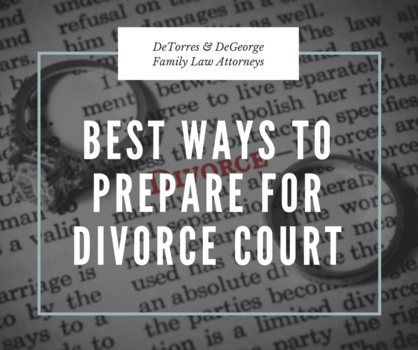 There's often no shortage of questions surrounding the divorce process, especially when faced with the nervousness or intimidation that comes along with having to appear in court. Although the steps you need to take when preparing for divorce court differ based on what point you're at in the process, there are some general pointers to follow, including dressing appropriately; being respectful to the judge, court staff, and other litigants; and adhering to the rules set out by the judge.
Tips for preparing for divorce court
Many people have never gone to court, other than for a traffic ticket. Preparing for a court appearance can be nerve-wracking, but if you keep some tips in mind, you will be fine.
Dress appropriately.

Business dress is preferred. A low-key, conservative look is your best bet. This is not the time to show off your style or display expensive jewelry. You want to look boring, respectable, and trustworthy.

Leave weapons at home.

Guns, knives, and anything else you couldn't bring through TSA to get on airplane should be left at home. You will go through a metal detector and may have your belongings searched.

Don't bring a posse.

If you absolutely need someone for support, bring one person. He or she may not be allowed in the courtroom, but can sit with you in the waiting room.

No kids.

Never bring your child unless you are instructed to do so.

Speak when spoken to.

Let your attorney do the talking unless you are asked a question. You're not running the show. Trust your attorney to get the job done. If you have to tell your attorney something, whisper or write a note.

Don't interact.

This is not the place for you and your ex to correct each other or make pointed comments. You are not going head-to-head.

Be respectful.

You can refer to the judge as "your honor" and other court personnel as "sir" or "ma'am." Be calm and polite whenever you speak.

Don't bring snacks.

No food or beverages are allowed in the courtroom, so don't show up with your Starbucks in hand. Do not chew gum or have candy in your mouth in court. Chewing tobacco is also a no-no.

Cellular silence is golden.

Turn off your cell phone, and do not use it or look at it when in the courtroom.

Ask what to expect.

If you are being represented, find out from your attorney what will be happening that day. If you will be testifying, ask for some pointers and tips.
Court appearances
If you are represented by an attorney, the first court appearance, known as the Case Management Conference, is generally waived by the attorney for the party submitting a proposed order beforehand to the judge. Therefore, you likely will not go to divorce court until the Early Settlement Panel. However, if you are self-represented, you will have to appear at the courthouse for the Case Management Conference. You do not need to have anything with you at this appearance, as it is simply used for scheduling dates for when your financial statement, known as your Case Information Statement, and other discovery are due.
When you appear for the Early Settlement Panel, you (or your attorney, if you are represented) will have to prepare an ESP statement. This document states what you believe is a fair settlement of your case, and you will have an opportunity to present your position to a panel of attorneys. Your ESP statement should also include attachments that might be helpful to the panelists, such as your Case Information Statements or any orders that may have been entered by a judge in your case.
Motion hearing
If your first appearance is for a motion hearing, this is a much different type of divorce court event. A motion hearing is called when a judge is asked to issue a ruling or order on a legal matter, and it can occur at any point throughout the divorce process. Generally the judges like for the parties to be present at motion hearings so that the judge can ask questions that may not have been clear in the motion submissions, or because the judge feels that the clients need to hear what he or she has to say about the case firsthand. If you are represented by an attorney at a motion hearing, you generally will not speak unless the judge asks a specific question to you. As a party to the case, there is little you have to do to prepare for the hearing itself. If you are self-represented, you will have to present your case to the judge just as an attorney would do. There are many rules with regard to motions and how they are to be prepared, and a pro se litigant is expected to follow those rules just as an attorney would.
Evidence presented in a divorce case
Although most divorces cases settle before they go to trial, if yours is going to be litigated, you may be wondering what kind of evidence your attorney needs. The evidence in a divorce case is crucial to your outcome. Evidence is what the court considers when making a decision. While your attorney will be presenting your case, this is about your life, so most of the information your attorney uses will come from you. It's helpful to understand the types of evidence needed.
Witnesses


Witnesses are what most people think of when they think about a trial. Witnesses could include your babysitter (to discuss parenting), your spouse's boss (to testify about your spouse's work hours and pay), or doctor (to discuss your child's special needs). A witness answers questions about things he or she knows about or has seen. The hearsay rule prohibits witnesses from testifying about things they do not have personal knowledge of. For example, your neighbor can testify about seeing your spouse hit your child but cannot testify about you telling her that your spouse hit your child.

Documentary evidence


Documentary evidence often plays a key role in a divorce trial, particularly when it comes to property division, child support, and alimony. Documents such as bank account statements, pay stubs, or appraisals offer important proof. Photographs and videos can also be evidence and can be very useful in custody cases. Other evidence such as physical objects could also be presented to the court.
Final hearing
Once you have resolved your case and are appearing in divorce court for a final hearing, it is important that you have copies of your signed agreement and a proposed final judgment of divorce for the judge's review and signature. You should be prepared to answer questions about your complaint for divorce (or answer and counterclaim), as well as your settlement agreement. If you are self-represented, the court will ask you these questions. The attorneys will question their own clients in the event that they are both represented.
If you have questions about preparing for divorce court or the divorce process and court appearances, call the attorneys at DeTorres & DeGeorge to schedule a consultation.