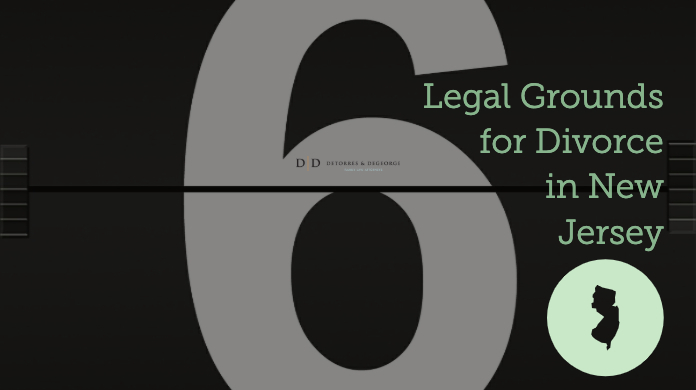 The grounds for a divorce are the legal reasons the divorce is granted. There are likely many reasons you are considering a divorce, but you must choose one of the accepted legal grounds for divorce as your reason. The majority of individuals who file for divorce in New Jersey utilize the "no fault" cause of action, known as irreconcilable differences. In fact, it is so common that it's almost as if there are no other legal reasons for divorce in New Jersey; but the truth is, there are actually a variety of causes of action available to parties who are seeking a divorce. Keep in mind, however, that if you are filing under one of the "fault" causes of action, you will need to prove your allegation at the conclusion of your matter.
1. Extreme Cruelty
Extreme cruelty is one of the more popular "fault" causes of action. In order to file under this provision, you must include a list of the extreme cruelty you suffered during the marriage within your complaint for divorce. Examples of extreme cruelty can be physical abuse, emotional abuse, and even unkind things that were said to you by your spouse during the marriage. In order to file under extreme cruelty, you certify that the last act of extreme cruelty took place more than three months prior to filing.
2. Adultery
Adultery is a cause of action available to a person whose spouse was unfaithful to him/her during the marriage. If you are filing under the adultery statute and you know the name of the person your spouse is cheating with, you must name that person within your complaint for divorce and serve him or her as a "co-respondent," which allows that person to defend against your allegation. In order to file for divorce in New Jersey, you need to live in the state for at least one year. However, if you discover the adultery prior to meeting the one-year residency restriction, the requirement will be waived and you can file immediately.
3. Addiction
If you are married to an addict, this is also grounds for divorce. In order to file under this cause of action, you will need to meet the residency requirement. You will also have to prove that your spouse suffers from drug or alcohol addiction and has been an active addict for a year without seeking treatment. If your spouse attempts to go to a rehab provider during that year, the time frame will reset. Between this requirement and the need to prove an addiction, this can be a difficult cause of action to pursue.
4. Desertion
Desertion is a potential cause of action in the event that your spouse has abandoned you physically, as in moving out of the marital residence and failing to return, or sexually, as in refusing to engage in a marital relationship. It's important to note in the instance of a physical desertion, in New Jersey, physically leaving the residence does not waive that party's right to the value of the residence. In order to file under desertion, there must be either physical or sexual abandonment for a period of at least one year.
5. 18 months separation
Prior to the enactment of the irreconcilable differences statute, 18 months separation was the only "no fault" provision in New Jersey. In order to file under separation, you and your spouse must physically live in separate residences for the entire 18-month period. Only after that can you file under this provision. This cause of action is largely moot at this point, given irreconcilable differences and the general ease of the requirements.
6. Irreconcilable Differences
New Jersey also has no-fault divorce, which allows you to seek a divorce for irreconcilable differences that have been ongoing for at least 6 months with no chance of reconciliation. The other no-fault divorce can be based on separation for a period of 18 months in separate homes. Under these grounds, neither spouse is officially blamed for the divorce.
Talk to DeTorres & DeGeorge about your options for divorce today.