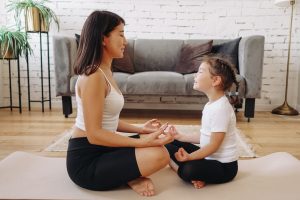 One of the most difficult aspects of ending a relationship with a partner when you have children is creating a new relationship so that you can effectively co-parent your children together, after your separation. According to WebMD,  "a toxic person is anyone whose behavior adds negativity and upset to your life. Many times, people who are toxic are dealing with their own stresses and traumas. To do this, they act in ways that don't present them in the best light and usually upset others along the way." When your co-parent is toxic or characterized as high conflict, it makes creating healthy relationships going forward feel nearly impossible.
Some potential warnings signs to be aware of if you think you're dealing with a toxic person:
You feel like you're being manipulated into something you don't want to do.

You're constantly confused by the person's behavior.

You feel like you deserve an apology that never comes.

You always have to defend yourself to this person.

You never feel fully comfortable around them.

You continually feel bad about yourself in their presence.

WebMD
The Importance Of Establishing A Parenting Plan
Establishing a parenting plan can seem monumental, but establishing boundaries and a solid parenting plan will be critical in creating a healthy mindset for yourself, and more importantly for your children. With clear boundaries, there is less of an opportunity for conflict and arguing. Once there is a parenting plan in place, if your co-parent is refusing to follow the plan, it is important that you continue to do so, even if it feels futile for you to continue doing so. If your co-parent is violating the plan and refuses to cooperate with you,  you may want to consider petitioning the court for relief.  You should consult with an attorney to understand your rights and for assistance navigating this process.
Dealing with a manipulative co-parent can be extraordinarily difficult and can have a significant emotional impact on you. It is essential that you not only seek out the advice of a family law attorney but also consider seeking guidance from other professionals. Working with a therapist can help you when working to establish parenting communication guidelines. A therapist can provide nonlegal guidance to you, to facilitate co-parenting with a toxic ex, in ways that will allow you to cope for yourself and for your children.
How Do You Co-parent With A High Conflict Ex?
In order to successfully co-parent with a toxic ex, you have to establish clear communication guidelines.  Limiting your interactions to your priorities pertaining to your children is the best approach. Utilizing an application, which functions almost as a neutral third party, such as Our Family Wizard, can help to eliminate some of the contact between you and your co-parent. Some co-parenting pitfalls to avoid include engaging your spouse on social media or listening to close friends and family members share information with you about your co-parent. Be careful about who you discuss your personal business with, as you want to avoid any unnecessary information being shared with your co-parent.  Maintain your privacy for yourself and also don't give into curiosities that you may have about your co-parent's personal life.
If you are co-parenting with a toxic person and need help to set boundaries with a toxic co-parent or understanding how to deal with a toxic co-parent contact us today at DeTorres & DeGeorge. We can help you navigate a high conflict parenting situation by working to establish co-parenting communication guidelines. You will be best prepared to navigate co-parenting with a toxic person.