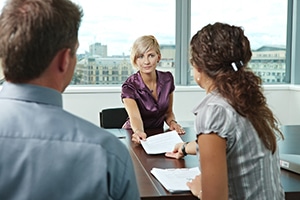 Disputes during divorce can lead to issues with securing an agreement for splitting up of assets, problems with child custodial arrangements, and issues with spousal support agreements. Amicable dispute resolution can be hard to secure without divorce mediation of some kind. There are alternative dispute resolution methods that can be used to try and find an agreeable divorce settlement for both parties.
If you are wondering whether you should choose ADR over litigation, there are some things that you need to know about alternative dispute resolution methods when compared to going to court. Mediation is almost always a better solution than heading to trial.
What is ADR
?
Alternative Dispute Resolution, or ADR, is a method of resolving conflict during a divorce that keeps the parties out of the courtroom. This is often a more affordable process than heading to trial and it can be completed much faster than divorce cases that go to trial. The cost of litigation can be steep in the state of New Jersey, and most people do not realize just how much better the ADR process will be for them financially when they are first considering a divorce.
What Are
the Types of Alternative Dispute Resolution
in New Jersey?
1.
Negotiation
This is the most common type of alternative dispute resolution used in the Clinton area as well as New Jersey. When negotiation is used during a divorce, each spouse will remain in full control of the process of the divorce. This helps to create a mutual agreement on child support, custody, and division of assets.
2.
Mediation
In cases where negotiation is not the type of alternative dispute resolution that the couple wants to utilize or agreement is not possible, mediation is used to help create an amicable agreement between parties. Skilled mediators are accessed for this process to help find ways to foster agreement in highly contentious cases. This is one of the types of alternative dispute resolution that is used for divorces where both parties are not truly speaking to one another and things are very tense.
3.
Collaborative Divorce
In this method of seeking an agreement during a divorce, conflict resolution is done from a healing perspective. This type of alternative dispute resolution is used the least since most people are not in a position to view the process of a divorce as a means to heal a broken relationship. This can be a great choice if you and your spouse are mostly in agreement about the divorce process.
4.
Arbitration
This is like a trial, and testimony is taken, but the rules of the evidence that are needed are much more straightforward. In the state of New Jersey, arbitration is done by a skilled arbitrator which has been agreed upon by both parties in advance. The downside of this type of alternative dispute resolution is that you will have less control over your divorce settlement. This can be a cheaper alternative, however, if you and your spouse simply cannot agree on anything about the divorce, even with mediation and the involvement of lawyers in the case.
The Benefits of Using Alternative Dispute Resolution
There are many reasons that ADR is a better choice than a regular trial. You will save money, spare your children from being exposed to court proceedings, and be more likely to secure a divorce settlement that is amicable to both parties involved. The process of ADR is much less complicated overall and can save everyone money, stress, and time.
Many people are not aware that there are so many different kinds of ADR that you can use to navigate divorce and these options are almost always better than going through a traditional divorce process.
Contact us Today for Help With your Alternative Dispute Resolution
If you have been considering ADR rather than heading to court for your divorce, you will want to contact us today. DeTorres & DeGeorge are skilled divorce and family lawyers and know how to navigate the alternative dispute resolution process. You will be able to secure a favorable divorce that protects your rights to your income, time with your children, and assets.
Contact us at DeTorres & DeGeorge for help with your ADR needs. We will give you a consultation right away and help you to determine which of the types of alternative dispute resolution is right for your needs.