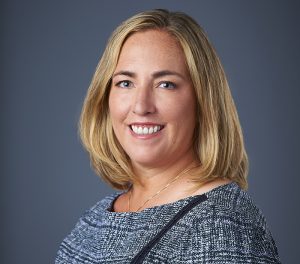 Carolyn Hand is a passionate and experienced litigator specializing in family law. In 2020, she was named partner at DeTorres & DeGeorge Family Law. She represents clients in family court in all matters pertaining to divorce, custody and parenting time, equitable distribution, support issues, as well as restraining orders.  Carolyn is a mother of two. One of her children was diagnosed with autism at the age of 2. Carolyn intimately understands the challenges facing special needs parents.  She is dedicated to the advocacy for individuals with autism and their families.
Prior to joining the firm, Carolyn was a Managing Staff Attorney at Legal Services of Northwest Jersey and was the on-site family law attorney for the Morris Family Justice Center (MFJC). While working with the MFJC, Carolyn routinely represented victims and survivors of domestic abuse and successfully tried numerous domestic violence cases.
Carolyn is a graduate of Seton Hall School of Law. While in law school, she was a semi-finalist in the moot court competition and participated in a study abroad program in Cairo, Egypt where she studied international jurisprudence. After graduating from law school, Carolyn served as law clerk for the Honorable Donald J. Volkert, Presiding Judge of the Family Part, Essex County now retired. Carolyn received her undergraduate degree from Loyola University of Maryland.  She is admitted to practice law in New Jersey and is a member of the Family Law Section of the Morris County Bar Association.