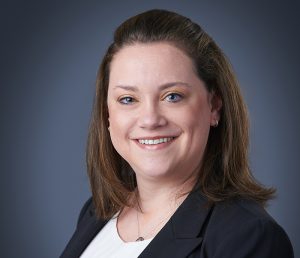 Caitlin DeGuilo Toker joined DeTorres and DeGeorge as an associate attorney in June 2014 and was named a partner of the firm in May 2019. Prior to joining the firm, Caitlin was associated with law firms specializing in the practice of family law, operating out of Morris and Monmouth Counties and additionally servicing Essex and Ocean Counties. Caitlin also worked with the Hon. Anthony F. Picheca, Jr. as law clerk in Somerset County, Family Law Part.
Caitlin DeGuilo Toker handles all aspects of family law, including divorce, custody, parenting time, equitable distribution, alimony, child support and post-judgment matters. Caitlin has significant experience in motion practice and negotiating property settlement agreements.
While in law school at Jacob D. Fuchsberg Touro Law Center, Caitlin was involved in the Family Law Clinic and represented indigent clients in Suffolk County, New York Family Court. At the conclusion of her term, Caitlin received an award for being the most successful student attorney in the program. Caitlin earned her Bachelors Degree from Drexel University, where she interned for the Hon. Renee Cardwell Hughes in the Philadelphia Homicide Division.
Caitlin is admitted to practice law in New Jersey and New York, and is a member of the Hunterdon County Bar Association.